Hi friends,
Do you have crafters, makers, or bakers on your Christmas list? Are you having a hard time coming up with gift ideas? I've put together a few suggestions that might help you out! 🎄
Disclosure: Some of the links on my site are affiliate links, meaning, at no additional cost to you, I will earn a small commission if you click through and make a purchase. As an Amazon Associate I earn from qualifying purchases.
For the crocheters (and knitters)…
Any of the ideas below along with a gift card to their favorite yarn shop would make a great gift! 🎁
This is a great set of inexpensive crochet hooks.
I have these scissors and love them!
Stitch markers make a great stocking stuffer!
Large-Eye blunt needles are a must for weaving in all those ends!
A project tote bag is perfect for taking your project on the go.
For the card makers, scrapbookers, and paper crafters…
Having the basics on hand makes creating so much more fun!
A paper trimmer is a must!
Don't forget trimmer blade replacements – perfect stocking stuffers!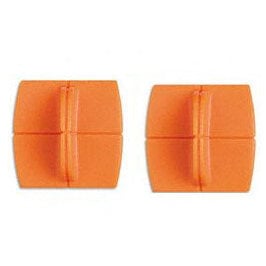 These Cutter Bee detail scissors are my favorite!
You can never have enough white card stock. 🙂

This is my favorite adhesive for paper crafting.
You can find the refills for the tape runner here.
Black journaling pens so you can record all the memories in your scrapbook.
Foam tape for adding dimension to your cards makes a great stocking stuffer.
These Blender Brushes are amazing for adding color to your projects!
These ink cubes are a great way to try out different colors.
If you've followed me for a while, you know this is my favorite black ink pad for stamping.
For the bakers and cooks…
I'm usually a simple baker/cook so these are some ideas for people like me 😉 or for those newlyweds or college students in their first apartment. It's also fun to get new things just to brighten up your kitchen!
Silicone Baking Sheets are great for baking – especially for cookies!
This 3-piece Pyrex measuring cup set can be so helpful in your kitchen.
For something fun – a donut pan for baking fresh donuts!
Adjustable measuring spoons would be a fun stocking stuffer!
Silicone oven mitts are great for grabbing those hot baking pans – these have good ratings and come in 9 different colors to match any kitchen.
I love these KitchenAid Classic Mixing Bowls – and they come in 3 different colors.
Silicone utensils won't scratch your pans!
Non-stick cookie sheets are good for more than just cookies.
Loaf pans are great for quick breads and meatloaf.
I hope these suggestions have been helpful in getting your gift-giving juices flowing. 🙂
Anita